Schematic Dates for the Equinoxes, the Solstices and the Heliacal Phenomena of Sirius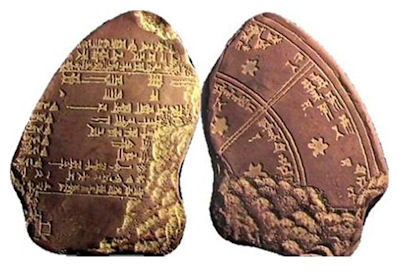 During the Seleucid period, the astronomical cuneiform tablets often list the predicted dates of the solar equinoxes and solstices and the heliacal phenomena of Sirius according to a scheme which is known as the "Uruk Scheme". For each year in a 19-year cycle (of which year 1 = 1 SE) these phenomena were assumed to occur on a fixed date in the Babylonian calendar.
The scheme was calculated from an ideal sequence of summer solstice (SS) dates each separated by 12 months + 11;3,10 tithis. Although Babylonian astronomers were aware of the inequality of the length of the astronomical seasons, for calendrical purposes the dates for the begin of the other astronomical seasons were obtained by the successive addition of 3 months + 3 tithis.
The schematic dates for the heliacal phenomena of Sirius were obtained as follows:
Heliacal setting = VE + 1 month + 18 tithis [= heliacal rising + 10 months + 6 tithis = SS + 10 months + 27 tithis]
Heliacal rising = SS + 21 tithis
Acronycal rising = WS + 5 tithis [= heliacal rising + 5 months + 20 tithis = SS + 6 months + 11 tithis]
In this scheme the heliacal rising of Sirius always fell in month IV (Duʾūzu), except in the 10th year in each 19-year cycle when it fell at the end of the previous month (Sīmannu).
year in
19-year
cycle
vernal
equinox
Sirius
heliacal
setting
summer
solstice
Sirius
heliacal
rising
autumnal
equinox
winter
solstice
Sirius
acronycal
rising
vernal
equinox
1
15 Ayyāru
29 Sīmannu
20 Duʾūzu
2 Tašrītu
5 Ṭebētu
10 Ṭebētu
8 Addāru II
2
26 Nīsannu
10 Sīmannu
1 Duʾūzu
13 Ulūlū
16 Kisilīmu
21 Kisilīmu
19 Addāru
3
7 Ayyāru
21 Sīmannu
12 Duʾūzu
24 Ulūlū
27 Kisilīmu
2 Ṭebētu
30 Addāru
4
18 Ayyāru
2 Duʾūzu
23 Duʾūzu
5 Tašrītu
8 Ṭebētu
13 Ṭebētu
11 Addāru II
5
29 Nīsannu
13 Sīmannu
4 Duʾūzu
16 Ulūlū
19 Kisilīmu
24 Kisilīmu
22 Addāru
6
10 Ayyāru
24 Sīmannu
15 Duʾūzu
27 Ulūlū
30 Kisilīmu
5 Ṭebētu
7
3 Nīsannu
21 Ayyāru
5 Duʾūzu
26 Duʾūzu
8 Tašrītu
11 Ṭebētu
16 Ṭebētu
14 Addāru II
8
2 Ayyāru
16 Sīmannu
7 Duʾūzu
19 Ulūlū
22 Kisilīmu
27 Kisilīmu
25 Addāru
9
13 Ayyāru
27 Sīmannu
18 Duʾūzu
30 Ulūlū
3 Ṭebētu
8 Ṭebētu
6 Addāru II
10
24 Nīsannu
8 Sīmannu
29 Sīmannu
11 Ulūlū
14 Kisilīmu
19 Kisilīmu
17 Addāru
11
5 Ayyāru
19 Sīmannu
10 Duʾūzu
22 Ulūlū
25 Kisilīmu
30 Kisilīmu
28 Addāru
12
16 Ayyāru
30 Sīmannu
21 Duʾūzu
3 Tašrītu
6 Ṭebētu
11 Ṭebētu
9 Addāru II
13
27 Nīsannu
11 Sīmannu
2 Duʾūzu
14 Ulūlū
17 Kisilīmu
22 Kisilīmu
20 Addāru
14
8 Ayyāru
22 Sīmannu
13 Duʾūzu
25 Ulūlū
28 Kisilīmu
3 Ṭebētu
15
1 Nīsannu
19 Ayyāru
3 Duʾūzu
24 Duʾūzu
6 Tašrītu
9 Ṭebētu
14 Ṭebētu
12 Addāru II
16
30 Nīsannu
14 Sīmannu
5 Duʾūzu
17 Ulūlū
20 Kisilīmu
25 Kisilīmu
23 Addāru
17
11 Ayyāru
25 Sīmannu
16 Duʾūzu
28 Ulūlū
1 Ṭebētu
6 Ṭebētu
18
4 Nīsannu
22 Ayyāru
7 Duʾūzu
28 Duʾūzu
10 Ulūlū II
13 Kisilīmu
18 Kisilīmu
16 Addāru
19
4 Ayyāru
18 Sīmannu
9 Duʾūzu
21 Ulūlū
24 Kisilīmu
29 Kisilīmu
27 Addāru
---