research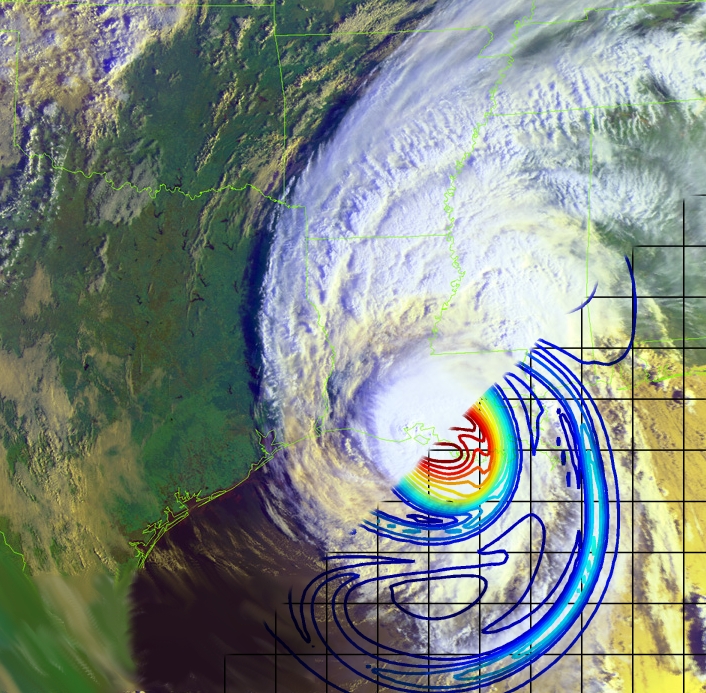 Simulated two-vortex merger superimposed over satellite image of Hurricane Lili (Oct. 3, 2002). (Photo: NOAA).
Research interests
Numerical methods for time-dependent ordinary and partial differential equations, in particular geometric integration and (multi-)symplectic discretizations of Hamiltonian PDEs, mimetic and structure preserving methods. Application to atmosphere and ocean science.
Data assimilation and parameter estimation: synchronization and tangent space decomposition methods, minimax optimal control approach, and particle methods. Geophysical fluid dynamics context.
Stochastic-dynamic methods for control/correction of invariant densities and modelling of underresolved processes.
Complex systems science: dynamics on networks, synchronization, transitions. Applications in economics and finance, biology, technology.
projects
CWI Amsterdam Svetlana Dubinkina (CWI) and I have a one-day-per-week exchange between our respective institutes.
IBM Research Dublin Since 2016, Sergiy Zhuk (IBM) and I have an ongoing joint collaboration agreement to develop minimax data assimilation/state estimation methods
UU Within the UU we collaborate in the form of joint PhD supervision with the Physics Department, and the School of Economics.
current and former PhD students
Liu Xin, PhD (starting November 2016). Numerical methods for complex economic models.
Thomas Gomez, PhD (starting September 2016), co-supervised with Giulia Piccillo and Utz Weitzel. The role of banks in economic crises: a behavioral approach.
Felix Beckebanze, PhD (since July 2015), co-supervision Leo Maas. Transport due to internal wave focusing.
Sangeetika Ruchi, PhD (since August 2015), co-supervision Svetlana Dubinkina. Data assimilation in reservoir applications.
Bart de Leeuw, PhD (since March 2015), co-supervision Svetlana Dubinkina. Data assimilation in atmosphere/ocean applications.
Wander Wadman, PhD 2015 U. Amsterdam, co-supervision Daan Crommelin. Rare event sampling with application to electric power grid integrity with decentralized generation and storage.
Keith Myerscough, PhD 2015 Utrecht U. Thermostat subgrid scale modelling of atmospheric fluids.
Janis Bajars, PhD 2012 U. Amsterdam. Geometric integrators for wave equations; thermostat methods.
Svetlana Dubinkina, PhD 2009 U. Amsterdam. Statistical mechanics of symplectic and energy-conserving discretizations for geophysical fluid models.
master students
Alejandro Alarcon-Gonzalez, Utrecht, co-supervision with Jacco Wallinga and Don Klinkenberg (RIVM), Inference of dynamics from rota virus data.
Gaia Martorana, Utrecht, co-supervision with Roeland Merks (Leiden). Computational modelling of continuum mechanics of anisotropic cells.
Kilian Bakker, Utrecht, co-supervision with Maurice Schmeitz, Kirien Whan and Wouter Knap (KNMI). Learning methods for improving solar radiation forecasts.
Emily Seager, Utrecht, co-supervision with Hidde Leijnse (KNMI), Inference of raindrop size distribution from cellular phone data.
Kaj-Ivar van der Wijst, Utrecht, co-supervision with Detlef van Vuuren and Andries Hof (PBL - Planbureau voor de Leefomgeving). Optimal Carbon pricing, sensitivities and uncertainty quantification.
Sem Mulder, Utrecht, co-supervision with Esteban Aguilera (Sensar, BV). Satellite inference of ground deformations.
Koen Helwegen, Utrecht, co-supervision with Henk Dijkstra (IMAU). Geoengineering and stochastic control.
Swinda Falkena, Utrecht, co-supervision with Henk Dijkstra (IMAU). Delay modelling of ocean oscillations.
Lisanne Hogeveen, Utrecht, co-supervision with Heleen Wortelboer (TNO Zeist). Network dynamics of stress in organizations.
Rens de Haas, Utrecht, co-supervision René van Roij. Nonequilibrium statistical mechanics of self-propelled particles.
Jesper de Groot, Utrecht, supervision Diederik Fokkema (Ernst & Young). Stochastic gradient methods for SVM.
Stefan Korenberg, Utrecht, co-supervision Henk Stoof. Stochastic modelling of evolutionary processes.
Alje van Dam, Utrecht, co-supervision Koen Frenken. Percolation modelling of technological transitions.
Eveline Visee, Utrecht, supervision Frank Platzek (Deltares). Second order accurate advection discretization for shallow water flow on unstructured meshes.
Francine Schevenhoven, Utrecht, supervision Frank Selten (KNMI). Data assimilation, parameter estimation in atmospheric models.
Bart de Leeuw, Utrecht, 2015, co-supervision Lars Frits. Numerical solution of electron transport in crystalline insulator.
Anna Kruseman, Utrecht, 2014, co-supervision Leo Maas. Spectral method for 2D vorticity flow.
Stefan Kopecz, Kassel University, Dec 2005, co-supervised with Leo Maas. Wave attractors for a stratified fluid in a tilted square domain.
Halldóra Þórsdóttir U. Amsterdam, 2011. Hamiltonian particle-mesh method for the quasi-geostrophic equation on a sphere. Thesis.
fellow
Sergiy Zhuk - ERCIM Fellow, 2011–2012. Data assimilation for energy applications. Currently, IBM Research Dublin, where he works on state estimation/data assimilation methodology for societal applications: energy, geophysical modelling (ground and ocean), tracers and pollutants, traffic, etc.