Using a lot of field data from several measurement campaigns between 2008 and 2015, we reconstruct spatial patterns of surface mass balance over the Larsen C ice shelf. We assimilate RACMO2 SMB to the available observations to show that SMB is highly variable: from 200 mm w.e. per year in the northeast to over 700 mm w.e. in the southwestern inlets.
Using the mass budget method, our new study in The Cryosphere shows that mass loss from the Greenland Ice Sheet has been 12 ± 6 mm since 1991, making it a major contributor to global mean sea level rise.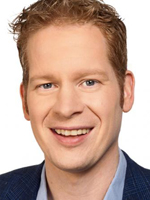 I am a postdoctoral researcher in the field of glaciology and polar meteorology at the Institute for Marine and Atmospheric research Utrecht (IMAU), part of Utrecht University, The Netherlands.