Department of Mathematics
Erik J. Balder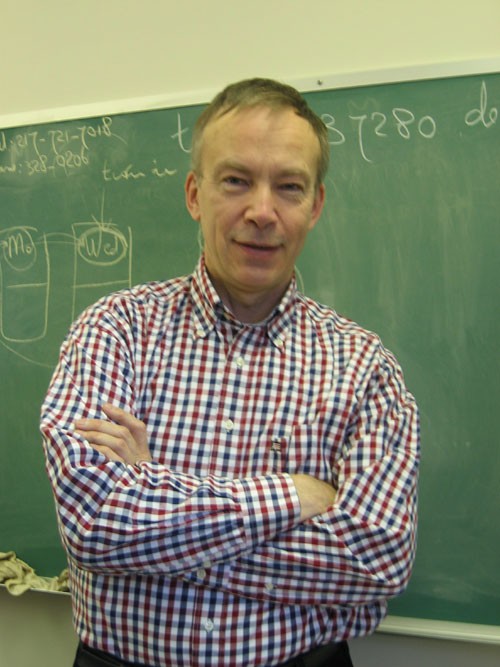 Function
Professor of Mathematical Economics and Decision Theory (emeritus)


Scientific Functions:
Associate Editorships:
Academic Editorship:
British Journal of Education, Society and Behavioural Science, Sciencedomain International
Former Associate Editorships:
Economic Theory (Springer Verlag, New York)
International Journal of Mathematics and Mathematical Sciences (Hindawi Publishing Corporation)
Mathematics of Operations Research (The Institute of Management Sciences)
Set-Valued Analysis (Kluwer, Dordrecht)
Statistics and Decisions (Oldenbourg Verlag, Munich)
Visiting Professorships Abroad:
CEREMADE (Centre de Recherche de Mathématiques de la Décision), Universit&eacute Paris IX Dauphine
Dipartimento di Matematica, Universita di Perugia
Department of Economics and Finance, University of Alabama, Tuscaloosa (multiple)
Department of Economics, University of Illinois, Urbana-Champaign (multiple)
Department of Probability and Statistics, Michigan State University, East Lansing
1984:

A general approach to lower semicontinuity and lower closure in optimal control theory Appeared in SIAM J. Control Optim. 22:4 (1984).
A general denseness result for relaxed control theory Appeared in Bull. Austral. Math. Soc. Vol. 30 (1984).

1989:

On Prohorov's theorem for transition probabilities. Appeared in Travaux du S&eacute&minaire d'Analyse Convexe Montpellier 19 (1989), 9.1-9.11.


1995:

Lectures on Young measures. Appeared as Cahiers du CEREMADE No. 9517 (1995), Universit&eacute Paris IX Dauphine.


1998-2002:

New Fundamentals of Young measures (Haifa, 1998) Appeared in "Calculus of Variations and Optimal Control", Chapman and Hall Research Notes in Mathematics, No. 411 (2000).
Lectures on Young measure theory and its applications in economics (Grado, 1997) Appeared in Rend. Ist. Mat. Trieste Vol. 31 (2000).
2001 paper: On ws-convergence of product measures Appeared in Math. Oper. Res. Vol. 26 (2001).


A unifying note on Fatou's lemma in several dimensions (Math. Oper. Res. 9:2 1984)
New sequential compactness results for spaces of scalarly integrable functions (J. Math. Anal. Appl. 151 1990)
(with Christian Hess) Fatou's lemma for multifunctions with unbounded values (Math. Oper. Res. 20:1 1995)
(with Christian Hess) Two generalizations of Komlos' theorem with lower closure-type applications (J. Conv. Anal. 3:1 1996)
(with Anna Rita Sambucini) A note on strong convergence for Pettis integrable functions (Vietnam J. Math 31:3 2003)
A unifying approach to existence of Nash equilibria (Int. J. Game Th. 1995)
An existence result for optimal growth problems (J. Math. Anal. Appl. 95, 1983)
Incompatibility of the usual conditions for equilibrium existence in continuum economies without ordered preferences (J. Econ. Theory 2000)
More on equilibria in competitive markets with externalities and a continuum of agents (J. Math. Econom. 2008)
Exact and useful optimization methods for microeconomics (in: Springer Lecture Notes in Economics and Mathematical Systems 655 (2012), pp. 21-38)
Slides of a lecture on "Exact and useful optimization methods for microeconomics"
Comments on chapters 20-21 in "Introduction to Mathematical Economics" (2008) by E.T. Dowling
Mailing address:
Prof. dr. ir. E.J. Balder
Mathematical Institute
Universiteit Utrecht
PO Box 80 010
3508 TA UTRECHT
The Netherlands
Visiting address:
Mathematics Building
Room 600
Universiteit Utrecht
Budapestlaan 6
Utrecht
The Netherlands
Email: <E.J.Balder@uu.nl>
Telefax: +31-30-2518394

---

E.J. Balder

2012-2013:

2011-2012:

2010-2011:




2009-2010:

Infinitesimaalrekening C (WISB234, najaar '09)
Micro-economie (WISB271, voorjaar '10)
Maat en Integratie (WISB312, voorjaar '10)




2008-2009:

Convex Analysis for Optimization (national LNMB course)
Optimization


2007-2008:

Investeringstheorie
Optimization
Microeconomie


2006-2007:

Microeconomie
Optimization
Convex Analysis for Optimization (national LNMB course)


2005-2006:

Kaleidoscoop 1
Optimization
Investeringstheorie <E.J.Balder@uu.nl> 3 December, 2008